Access Control Systems Austin, TX
Installation & Repair of Access Control Systems for Austin, TX Businesses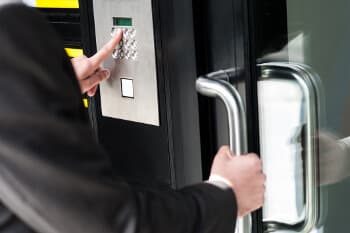 When it comes to having the right access control systems installed, replaced, or repaired, calling a company like Austin Locksmiths is the best choice when it comes to protecting your business. We install and repair all kinds of locks, but if you really want your business to be secure, you need access control systems Austin, TX that can get the job done. We are the company that can install these systems for you and make sure that everything is working the way it is supposed to work. Additionally, we provide 24/7 locksmith service in Austin, TX and upfront pricing for all service calls.
A Company That Stands Apart
We pride ourselves on doing business the old-fashioned way. We are a business that works hard to ensure that our customers are getting the best service possible. Therefore, our expert technicians provide you with professional, courteous service as quickly as possible. When you call one of our mobile locksmiths in Austin, they will provide a 30 minute response and fast and friendly service. If you are looking for a complete locksmith service in Austin, TX and surrounding areas, we are the company for you. Our commercial locksmith service is designed specifically to give you the service that you deserve, including installation of access control systems that can keep your business safe and secure.
Access Control Installation and Repair
Access control systems are designed to do exactly as the name implies. The whole point behind having such a system is to ensure that only certain individuals can gain access, either to the main part of the building or to certain areas that are closed off to other individuals. These types of systems grant access with a specialized fob, key card, or something similar. The card or fob is swiped against the system and the system then recognizes it. In some cases, it is accomplished by giving these individuals a specialized code that only they know. The specific type of access control system that is installed will depend on your business' needs and the level of security that you desire.
It is important to note that we service all types of commercial properties and that we are licensed, bonded, and insured. If you need an access control system for your building, we can help you. We service government buildings, supermarkets, malls, offices, condominium entrances, and virtually any other type of commercial property that you have in mind.
Experience is Key
There is nothing worse than contacting a company and being disappointed in the service that has been provided. We strive to ensure that this never happens to you when you call us. In fact, our goal is to be an honest, dependable company that you can call at any time of day, no matter what is going on.
What makes our complete locksmith service unique is that we understand that it is really about more than simply coming out to install and repair a lock. In reality, it is about providing our customers with the best experience that they can possibly have. We do a lot of things to make sure that you are happy. For example, our technicians have 5+ years of experience. This means that you are getting someone that knows how to get the job done and that can knowledgeably answer all of your questions right there on site.
In addition, our staff is always more than happy to answer your questions over the phone so that they can provide you with the help that you need as quickly as possible. When it comes to installing and repairing access control systems, all of this information becomes vitally important. As a business owner, you cannot afford to have something go wrong so you need a company that can get the job done right. Having access to a 24/7 locksmith service in Austin is important so be sure to save our contact information.
Contact Us Right Away
If you are looking for a locksmith company that can provide you with reliable, upfront pricing for Austin, TX and surrounding areas, contact Austin Locksmiths right away. We are ready to install and repair your access control systems or to assist you with any other type of assistance that you need when it comes to installing, replacing, or repairing locks and door hardware of all kinds. We are happy to help and we look forward to serving you.